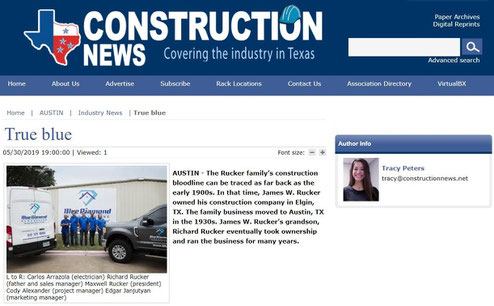 True blue
tracy@constructionnews.net
Link to source:
http://www.constructionnews.net/austin/industry-news-au/16295-true-blue.html
AUSTIN - The Rucker family's construction bloodline can be traced as far back as the early 1900s. In that time, James W. Rucker owned his construction company in Elgin, TX. The family business moved to Austin, TX in the 1930s. James W. Rucker's grandson, Richard Rucker eventually took ownership and ran the business for many years.
    He is still an integral part of the company as sales manager since handing the president title to his son in 2013. Maxwell Rucker is now the man in charge at Blue Diamond Remodeling. 
    Since Maxwell has been around construction his whole life, he is at ease in his managerial role. Maxwell was born in Santa Monica, CA and raised in Burbank, CA. It was a big change moving from California to Texas as a kid, but it was in the family and company's best interests. After graduating from high school, Maxwell's schedule became more open, and he was able to grow within the family business. He worked his way up the ladder operating in multiple roles throughout his years. 
    Blue Diamond Remodeling is a custom remodeling company, which offers renovations and remodels of all kinds. Catering to a wide variety of residential projects, the company does take on some commercial projects as well. Some commercial jobs include a boutique shop and a bar at a local international airport. The company has many years of experience reconstructing every room into one's ideal space, even turning an old basement into the favorite room. 
    Custom cabinetry is a much-loved project for Maxwell. It allows him to source different types of stones and be creative. With cabinetry, the company creates custom pieces like wine racks and kitchen island extensions. The company creates individualistic designs with granite/quartz fabrication. Some design themes include rustic, elegance and Texan. 
    As a licensed electrical contractor with a master electrician license, Blue Diamond Remodeling provides electrical services to both residential and commercial. When it comes to extensive remodeling, there is no way around ignoring the wires. This new launch allows the business to better serve customers. 
Examples of electrical services include a variety of lighting and fanning systems. 
    Soon, new divisions will run assigned duties within the company. The plan is to expand in all phases of construction. With so many services – along with the launch of electrical services – it is a must for the business to continue to systematize an orderly workflow.
    Blue Diamond Remodeling serves all of the Austin, TX area, heading as far down to Buda up to Georgetown and everything in between. Maxwell has lived in different parts of Austin, so he knows the community well. 
    The Blue Diamond team's hard work continues to be recognized. Austin Statesman and Austin 360 gave the company top honors in their "Best Home Contractor/Repair/Remodeling" category as part of the 2018 "Best of the Best" awards. The team celebrates together by going to Top Golf and usually plans two events yearly. 
    What intrigues Maxwell about the job is the uniqueness in each day and each project.
    "Each day is a new challenge and completely different than the past. I look forward to all future challenges and projects." 
    A challenge that Maxwell has grasped with experience is updating and revising every project each day or week. This is mandatory to make sure each project has the correct information from every single detail for a smooth and efficient service for both workers and customers. 
    Maxwell has always been talented in computer systems. He grew up building gaming computers and desktops. He built his first computer at 13 years old. At every work place, there is a computer, so Maxwell's niche still comes in handy for computer malfunctions or utilizing programs. 
    Blue Diamond Remodeling in Austin, TX is a full-service remodeling contractor.